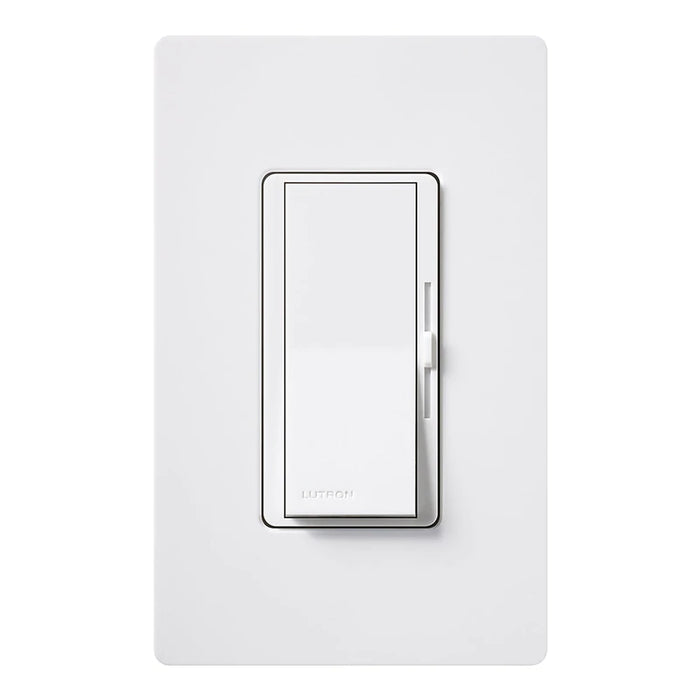 Lutron Diva DVCL-153PH-WH-C LED Dimmer Switch for Dimmable LED/Halogen/Incandescent Bulbs, Single-Pole or 3-Way, White
Sale
Sale
Original price
$39.96
-
Original price
$39.96
Lutron Diva
DVCL-153PH-WH-C 

LED Dimmer Switch for Dimmable LED Lights Single-Pole or 3Way, White

The Diva LED+ dimmer provides optimal dimming performance of LED bulbs. This dimmer works with up to 150-Watt of dimmable LED/CFL or 600-Watt of incandescent/halogen, allowing you to control multiple bulb types on the same circuit. It is designed to control a broad range of dimmable LED and CFL bulbs from a variety of brands including Philips, Sylvania, GE, EcoSmart and Lighting Science. The Diva dimmer features a paddle switch to turn your lights off or on returning the lights to your favorite level. This dimmer also features a discreet slide control next to the switch, allowing you to adjust the lights for any activity. Wall Plate not Included. 
Tested on 1,000s of bulbs and dozens of brands for flicker-free dimming
Works with up to 150 Watts of dimmable LED/CFL bulbs or 600 Watts of Incandescent/Halogen bulbs
Lutron's patented technology optimizes the dim range of your bulb and prevents interference with other dimmers in the home
Can be used in single-pole or 3-Way applications, where lights are controlled from one or two locations
Installs in as little as 15 minutes in homes of all ages NO NEUTRAL REQUIRED
Includes (1) Diva LED+ (formerly C.L) Dimmer Switch only.